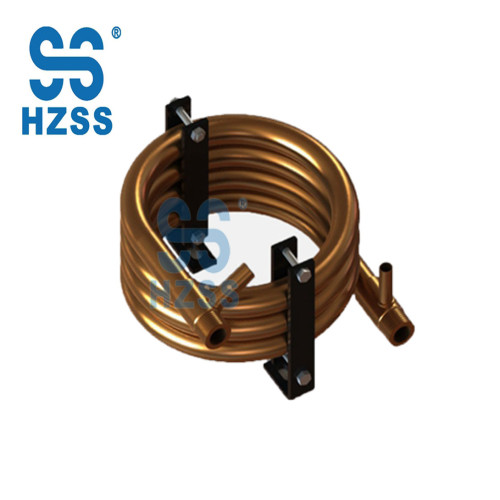 China Hangzhou / circular coaxial heat exchanger manufacturers
Item specifics
color

yellow
material of inner tube

copper tube
shape

round
system

single
Description
Product Application
The coaxial heat exchanger of a copper inner tube and a outer tube.Cold liquid and heat liquid flow in the gap that between inner and outer tube or in inner separately.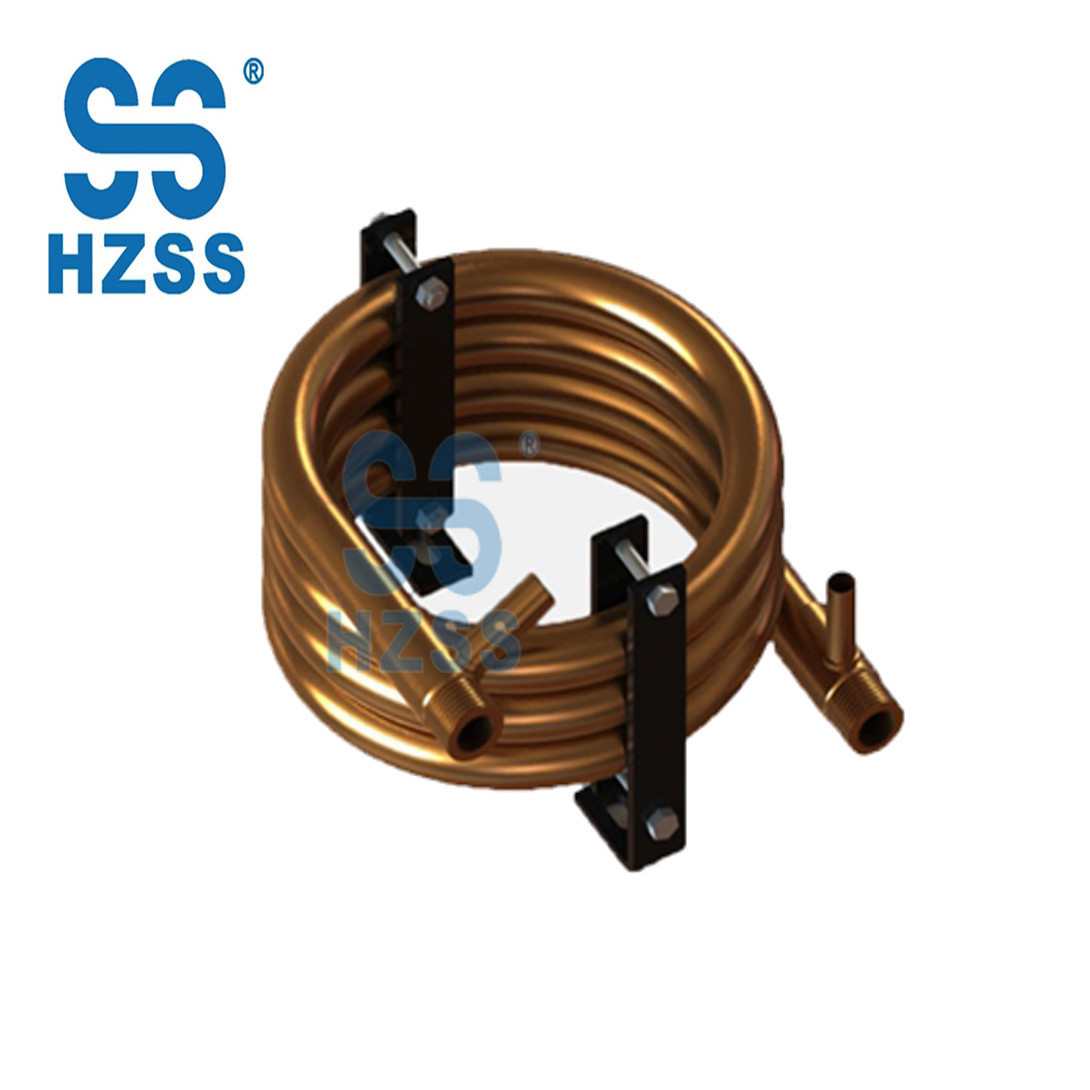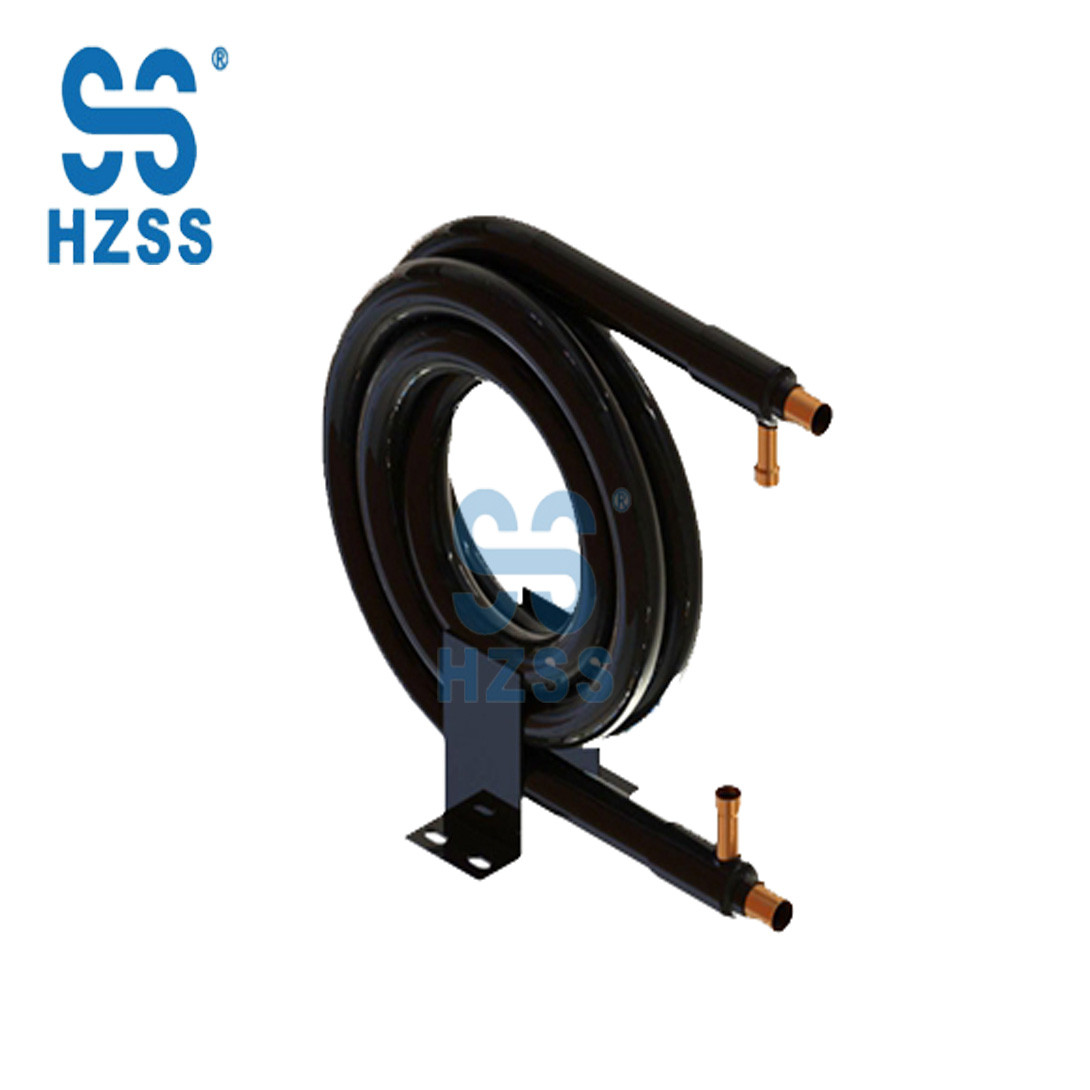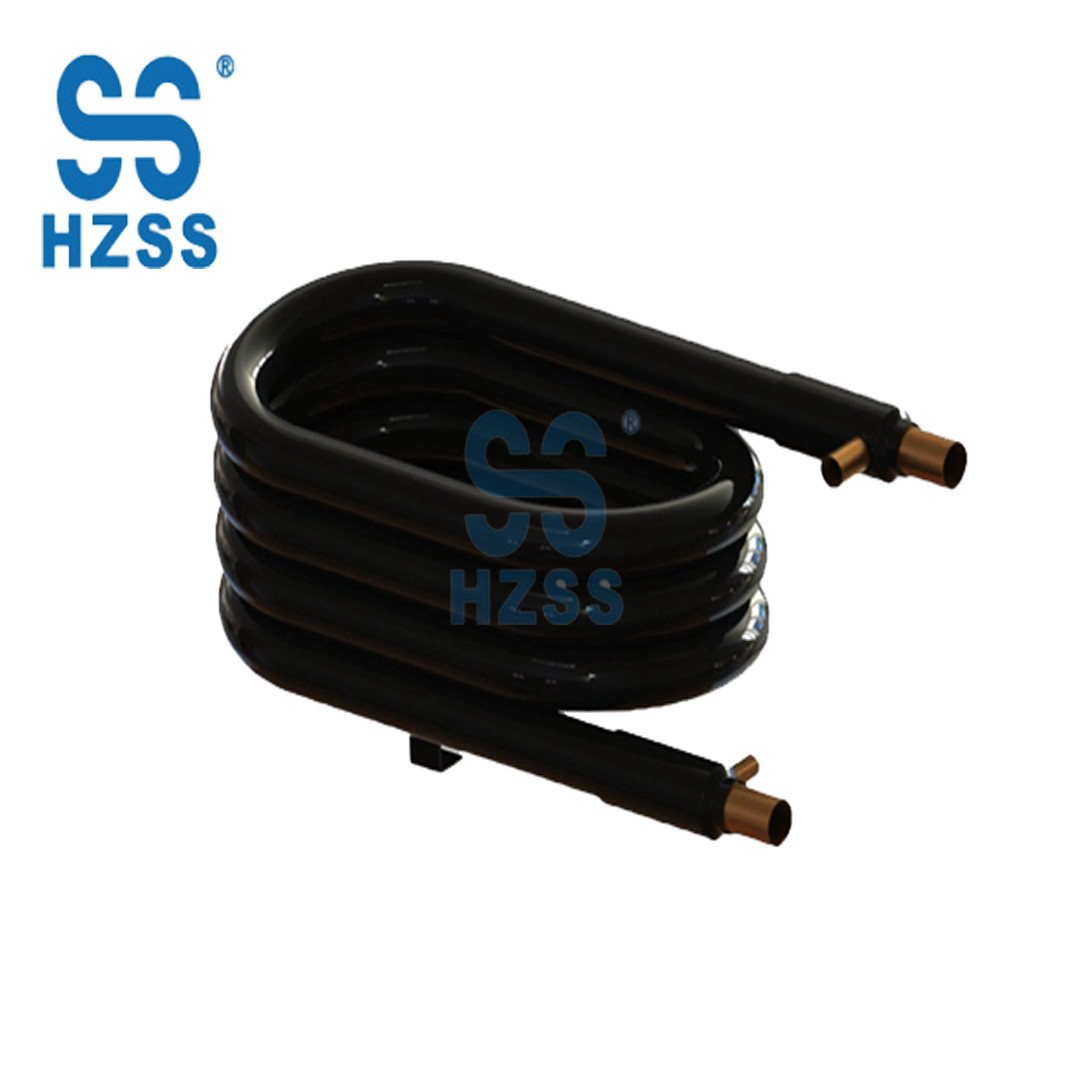 Product Features
1) Anti freezing
Water is not easy to get frozen because water is in a turbulence state as flow in the spiral groove inner tube at low speed. And the special spiral groove sturcture of inner tube makes the inner tube has a ability of flexibility, so it will not risk of frost crack.
2) Self cleaning, no block
Fluid flow helically to scour the surface, so the coaxial heat exchanger has a bility of self cleaning. And the coaxial heat excahnger's performance is stable and has less attenuation. The sectional area of water passway is bigger so it allowed silt, fiber of big diameter to get through without get blocked. The passeay of water is clean because spiral grooves inner tube makes water flow in turbulence state that will clean the surface.
3)Less welding points, higher pressure stand, more reliable
Because sipiral coaxial heat exchanger has few welding points with easy processing, the welding quality is easy to control. And it has little risk of leakage that may cause by prolonged vibration, pressure fluctuation, cold and heat alternation.
4)High efficiency
Spiral grooved structure can have the effect of strengthening heat transfer on both sides. Both the axial flow of fluid in the tube and the screw rotating flow will exacerbated fluid mixing near the wall, which will enhance the turbulence intensity, increased heat transfer coefficient.
5)

Enhanced heat exchanging
①There are net dentation that will enlarge the contact area of fluid and inner tube surface.
②
Net dentation can highten the turbulence and increase the Reynolds Number, so it will decline the thick of boundary layer of fluid.
As a consuquence, heat transfer coefficient is higher, heat transfer amount in 1 unit volume is more and heat transfer performance is much better.
6)Long serve life
When the refrigeration system in practice, due to temperature fluctuation, start-stop cycle, heat pump defrost, expansion valve regulation and other factors, internal pressure is frequently alternating condition. Under the constant vibration and pressure changes, the spiral coaxial heat exchanger is much more capable of resisting pressure shock and pressure shock than the plate heat exchanger, so it can adapt to the complexity of the actual working conditions.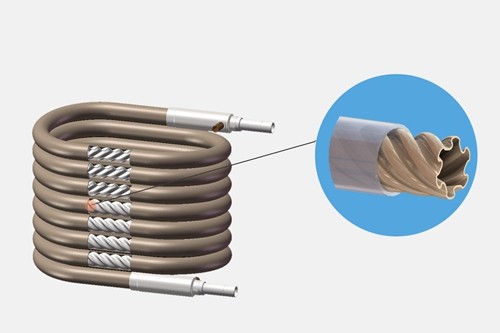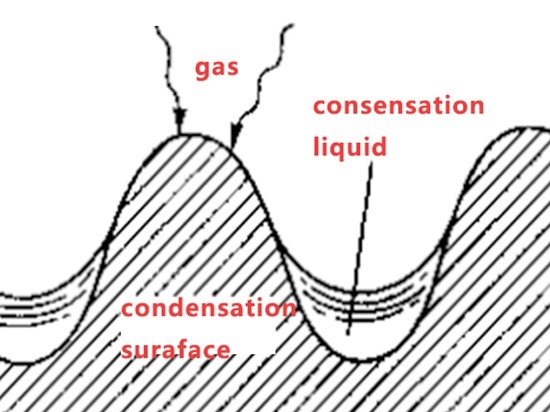 Structure Feature-1

After refrigerant is condensed, liquid film on the rib structure of inner spiral grooves tube will become thinner by surface tension, so it will reduce heat transfer resistance.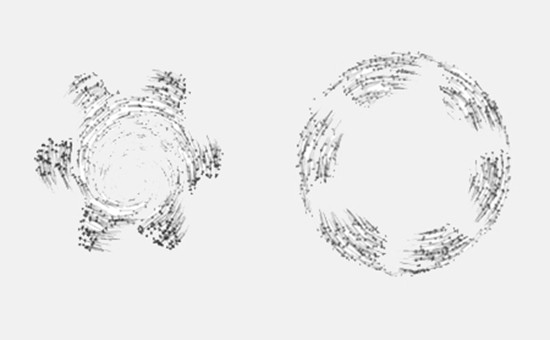 Structure Feature-2
Spiral grooves structure can enhance the heat transfer at both sides. Liquid will flow at axial direction and rotate in radial direction and create locally secondary flow, thus increase the mixture between liquid near the wall and that in the center of the flow pass.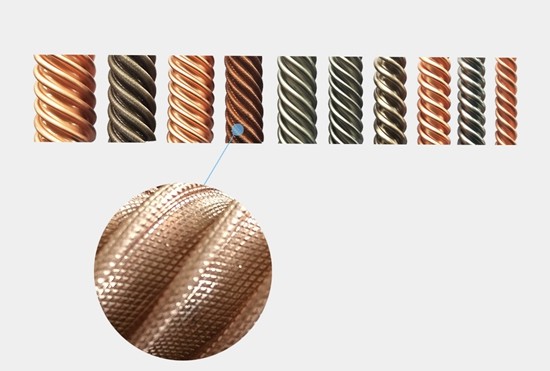 Product Material
Inner tube material
Inner tube material can be: red copper, cupronickel(BFe-10-1-1), Titanium, Stainless steel. And inner tube can be choosed by smooth tube or enhanced surface tube. And there are also double-wall copper inner tube.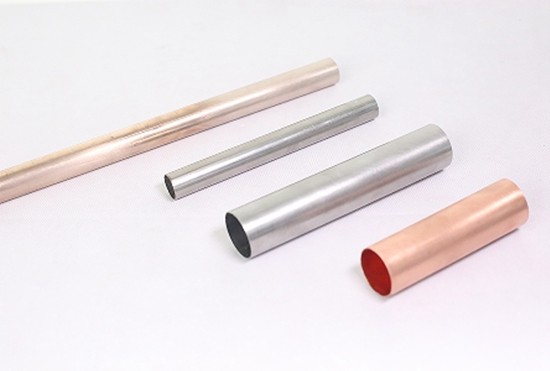 Outer tube material

Depending different working condition, outer tube material can be: steel, red copper, cupro-nickel, titanium, stainless steel etc.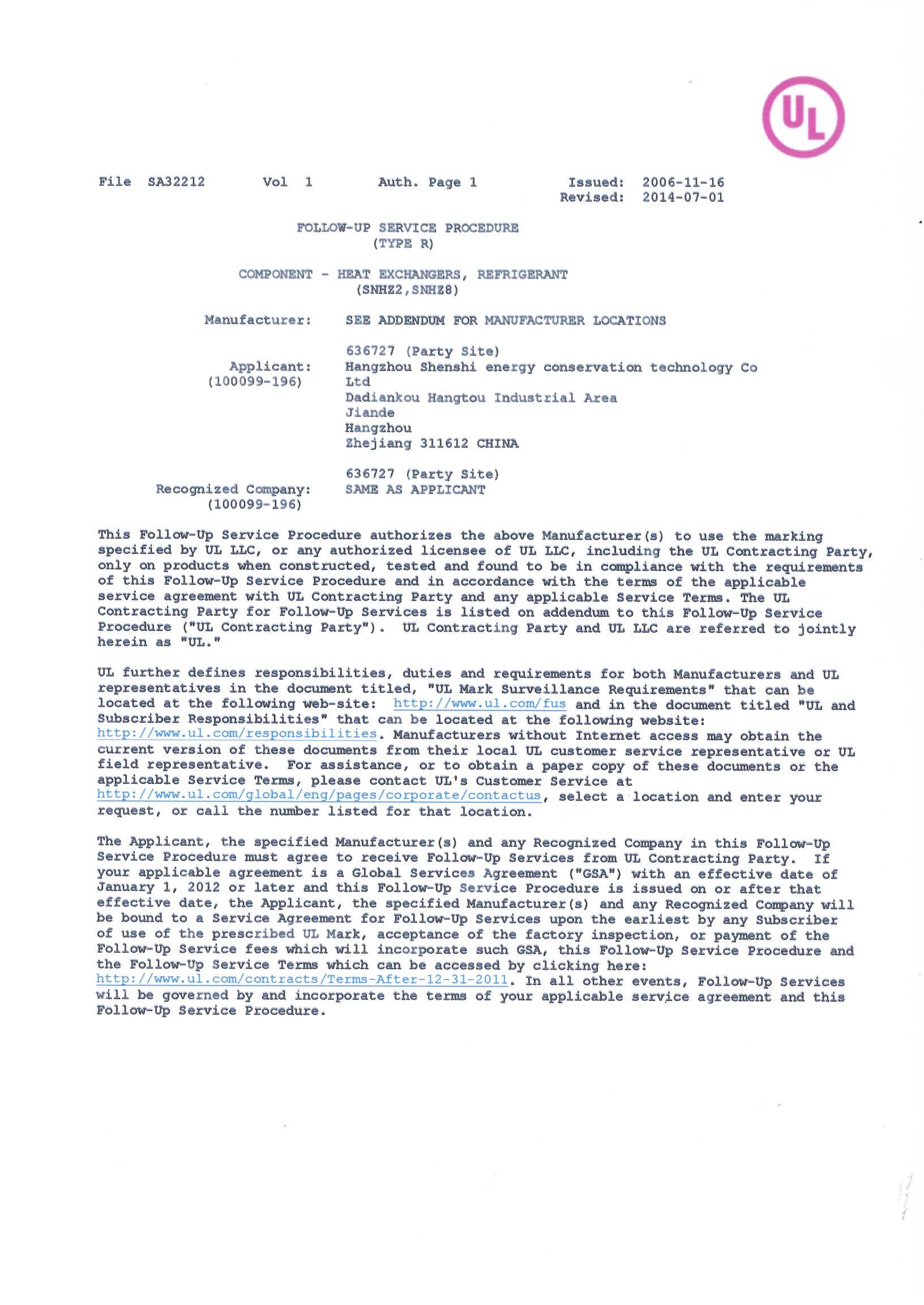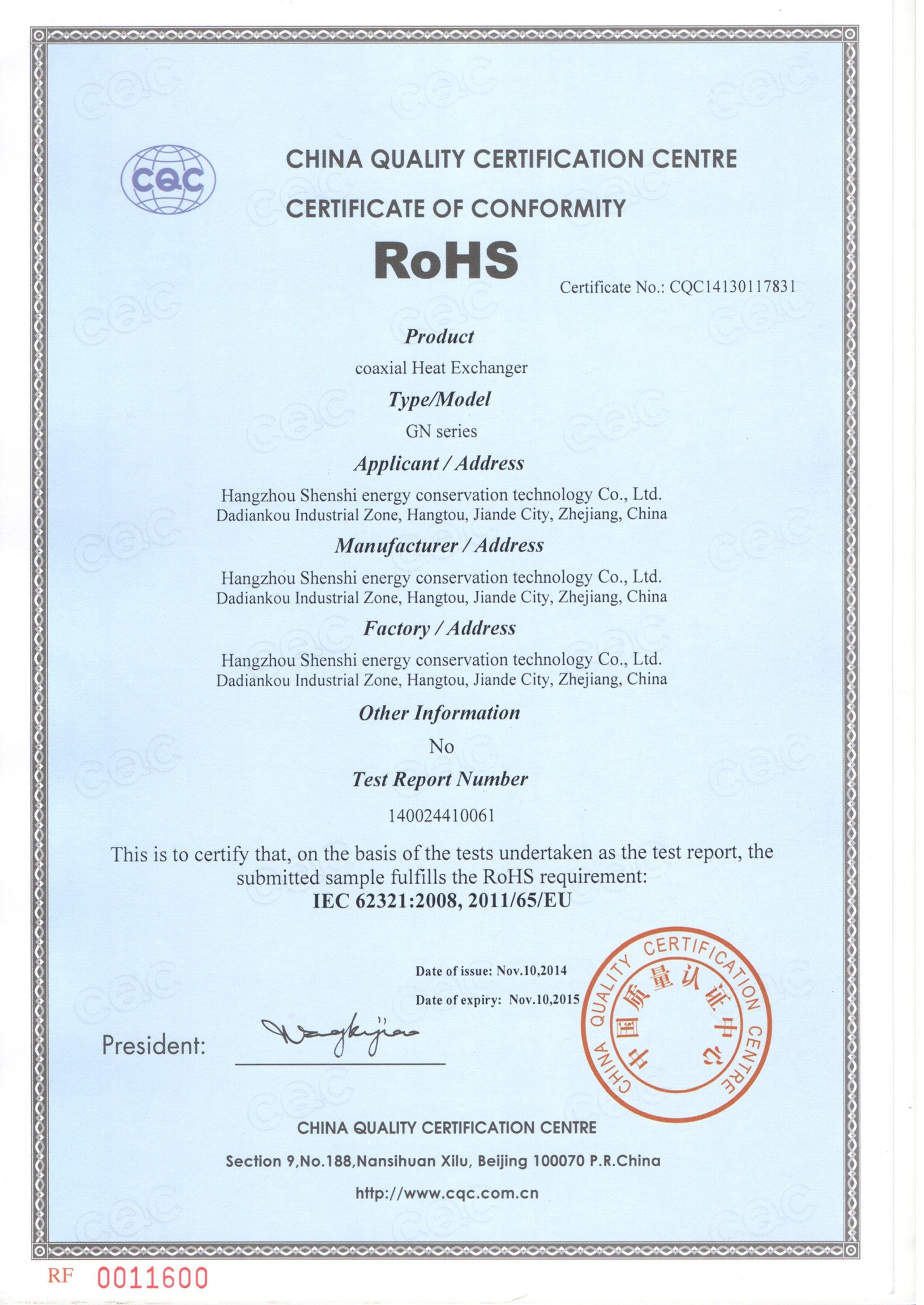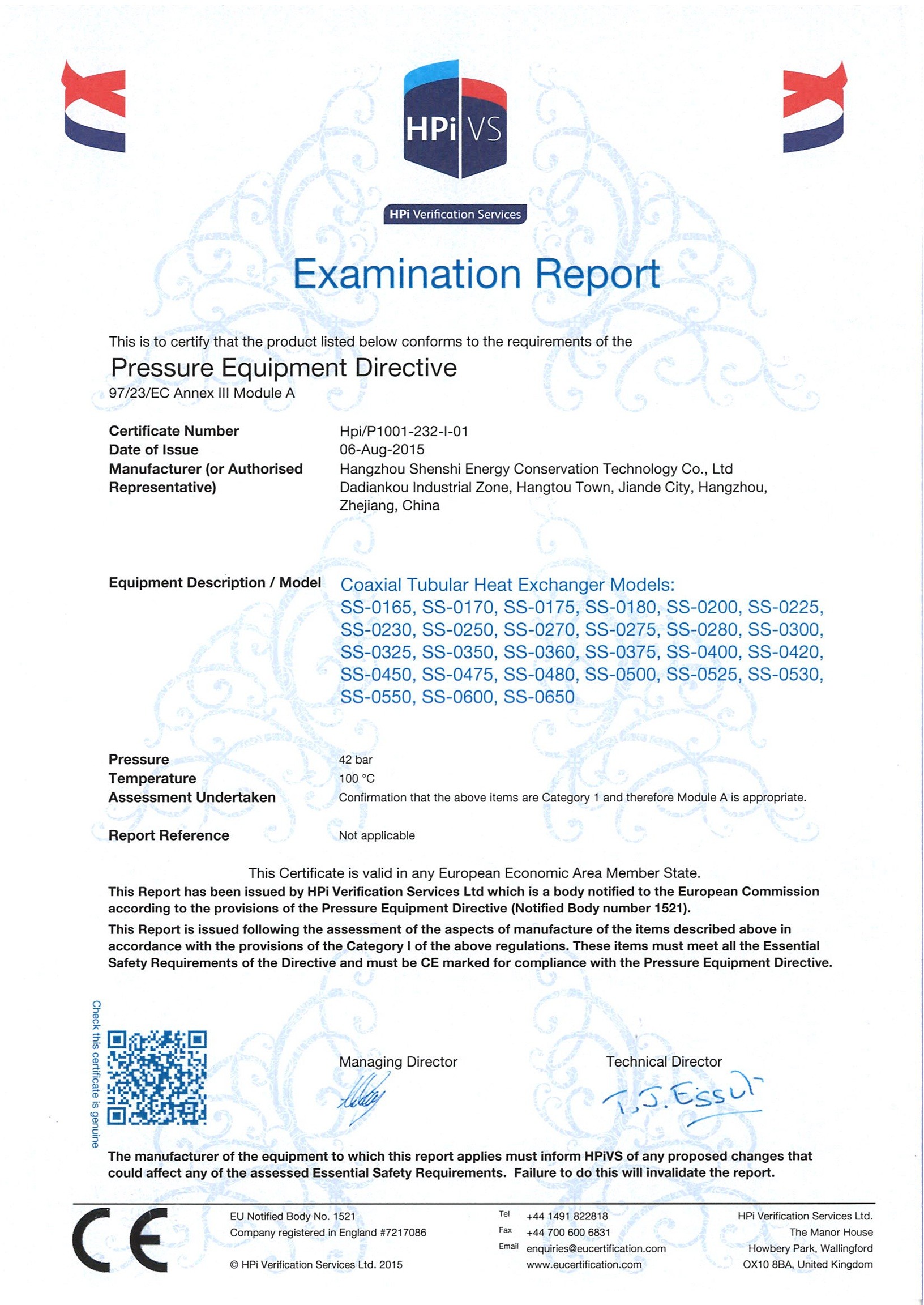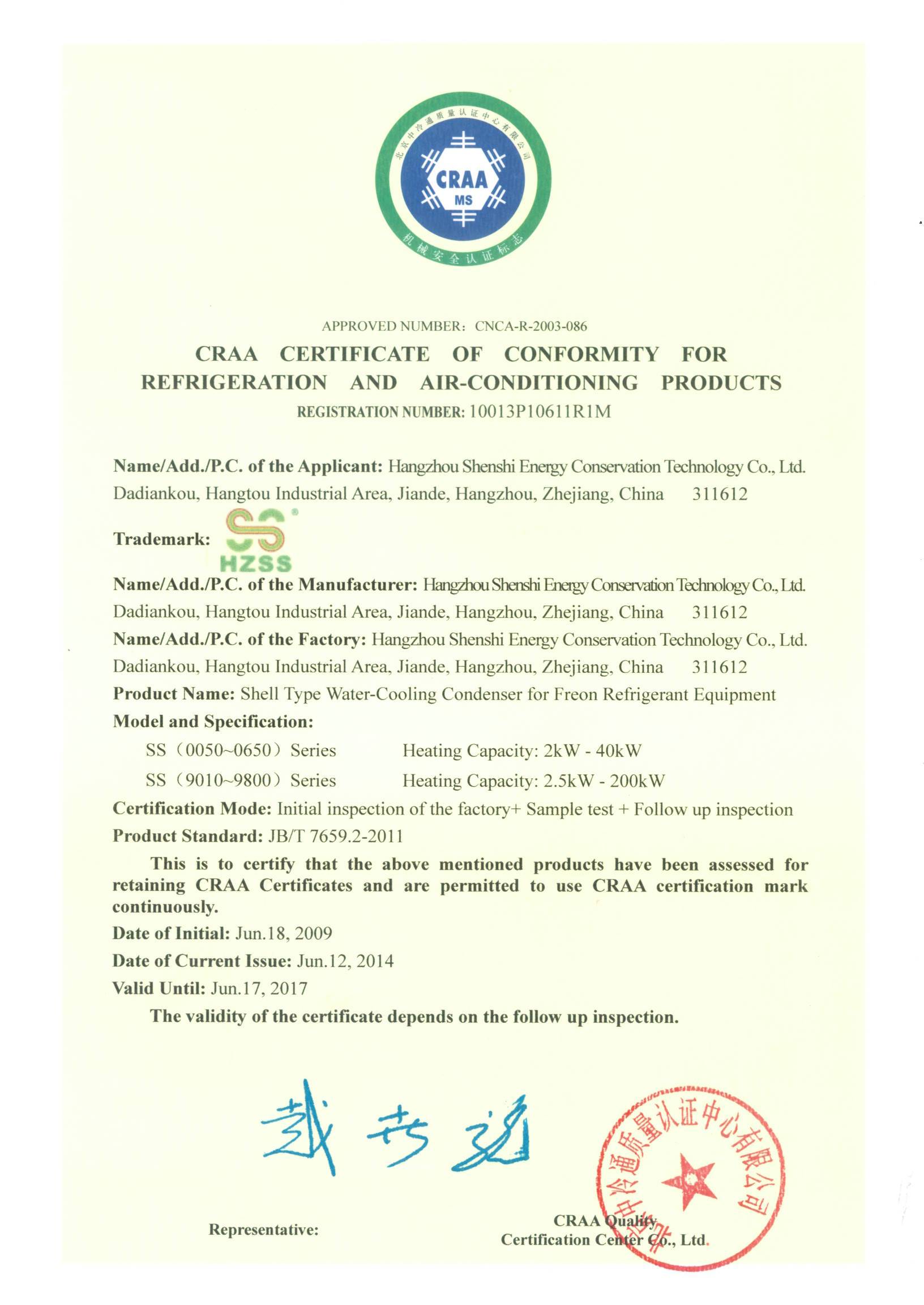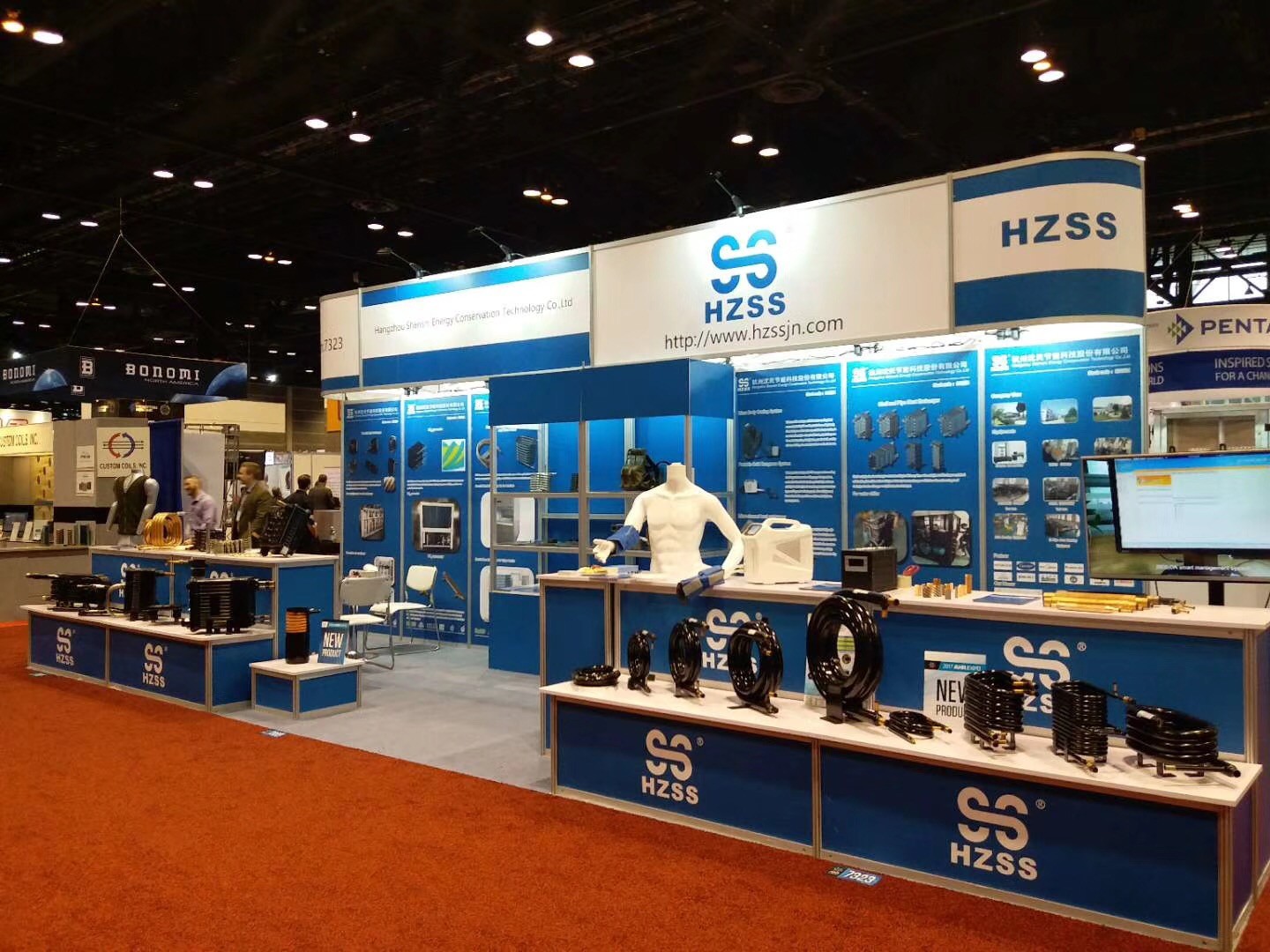 2018 American Refrigeration Exhibition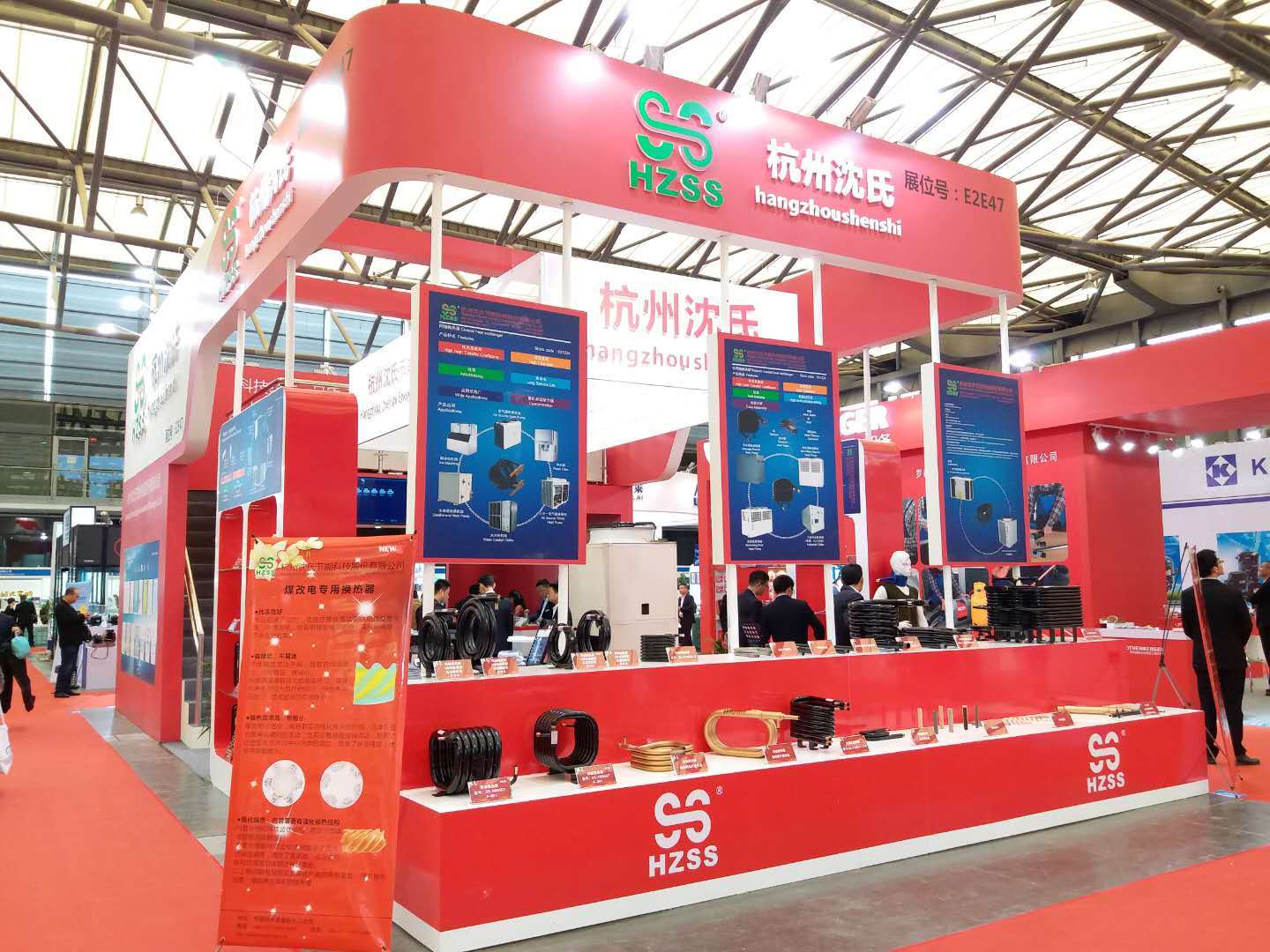 2017 Shanghai Refrigeration E

xhibition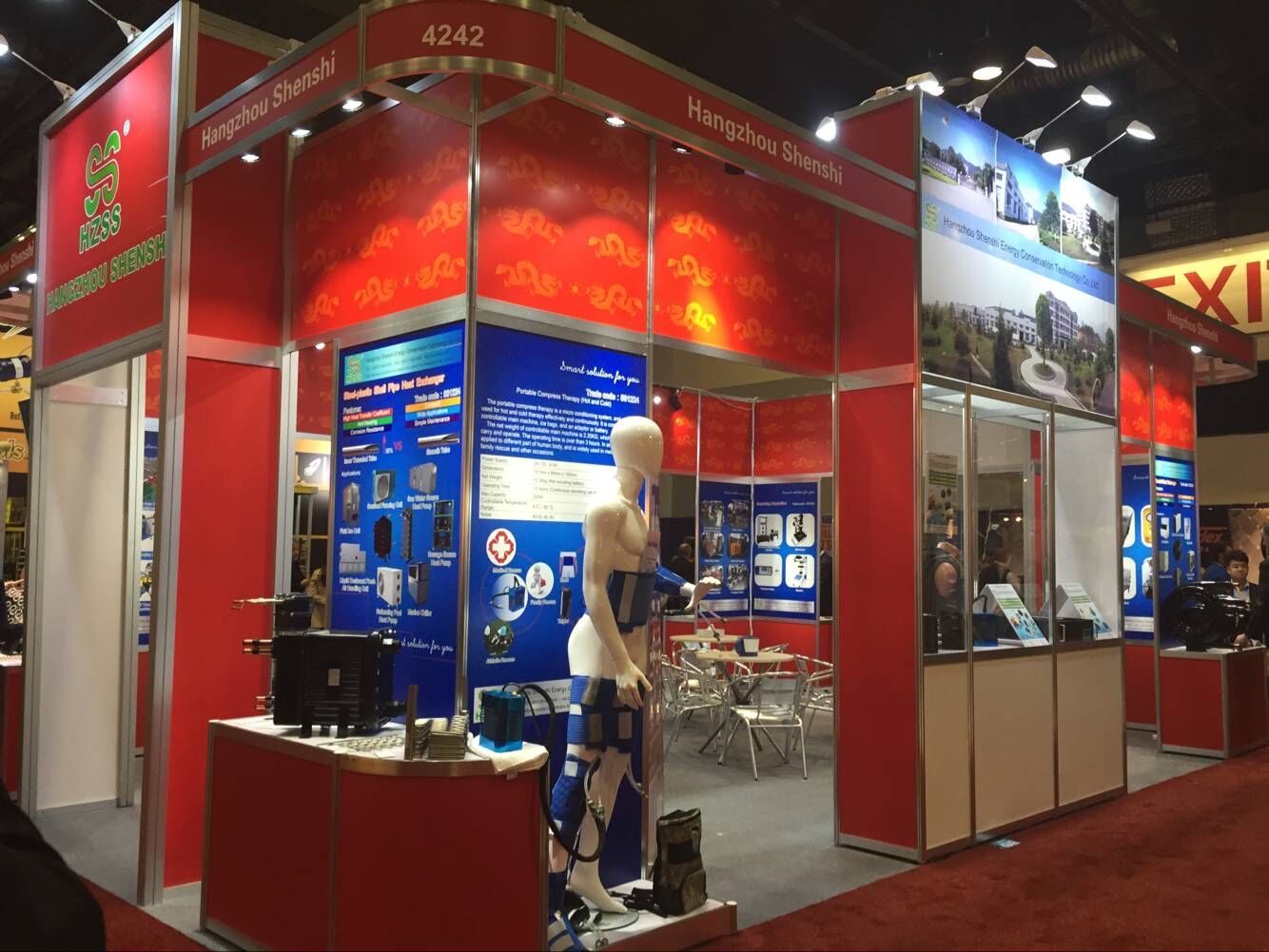 2016 American Refrigeration Exhibition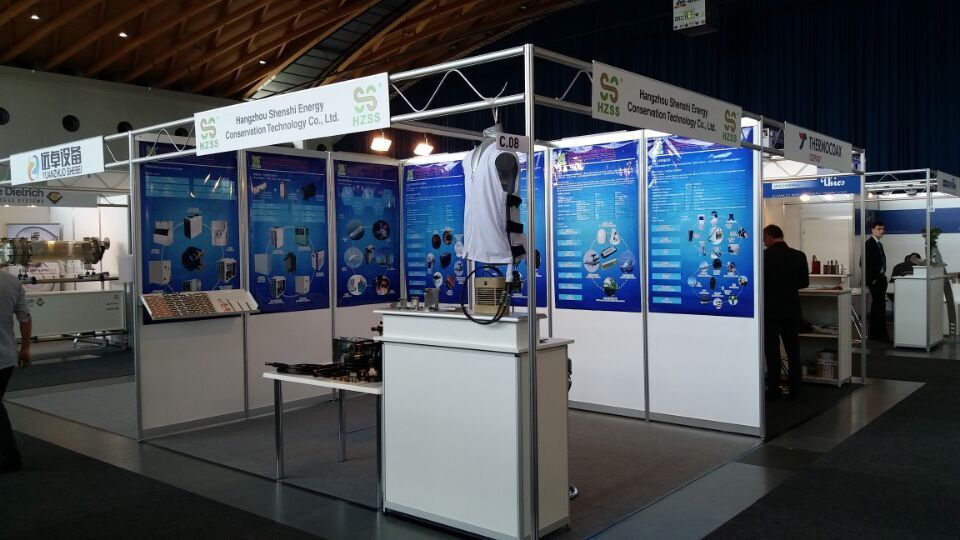 2016 Germany Heat Exchanger Exhibition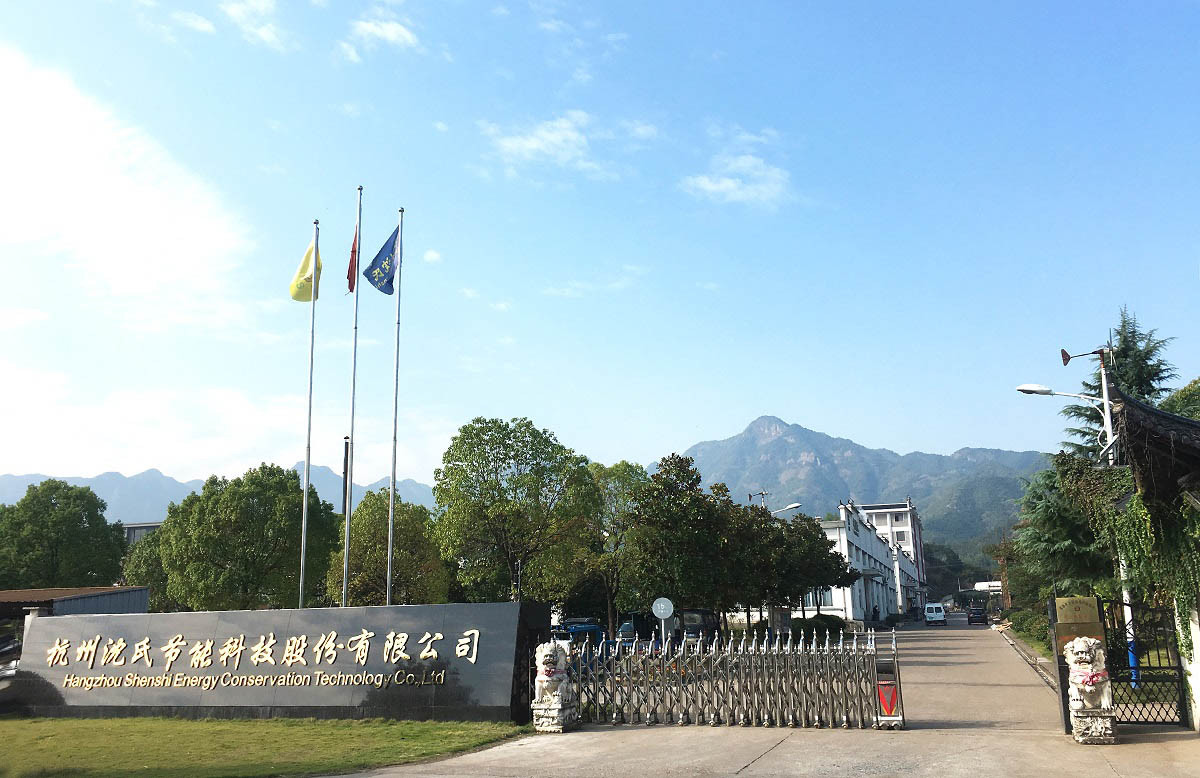 Hangzhou Shenshi Energy Conservation Technology Co.,Ltd was
set up in the year of 2005(the original name was Hangzhou Shenshi Heat Exchanger Co.,Ltd),located in Hangzhou Jiande, Zhejiang Province , China.HZSS is one of the largest coaxial heat exchanger manufacturers and the inventor and standard maker of shell pipe heat exchanger,and owns the global-leading technology of integrated micro-channel heat exchanger and small climate system.HZSS production and marketing of high effciency and energy saving heat exchangers.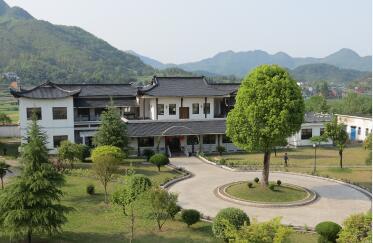 "Smart solution for you",this is a long-term mission and unremitting goal of HZSS.HZSS will continue developing miniature,energy saving,green and low carbon heat exchanger products and devices to provide the most efficient solution to our customers and the society.
We sincerely look forward to cooperating with you,and create a better "green"tomorrow!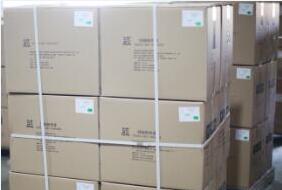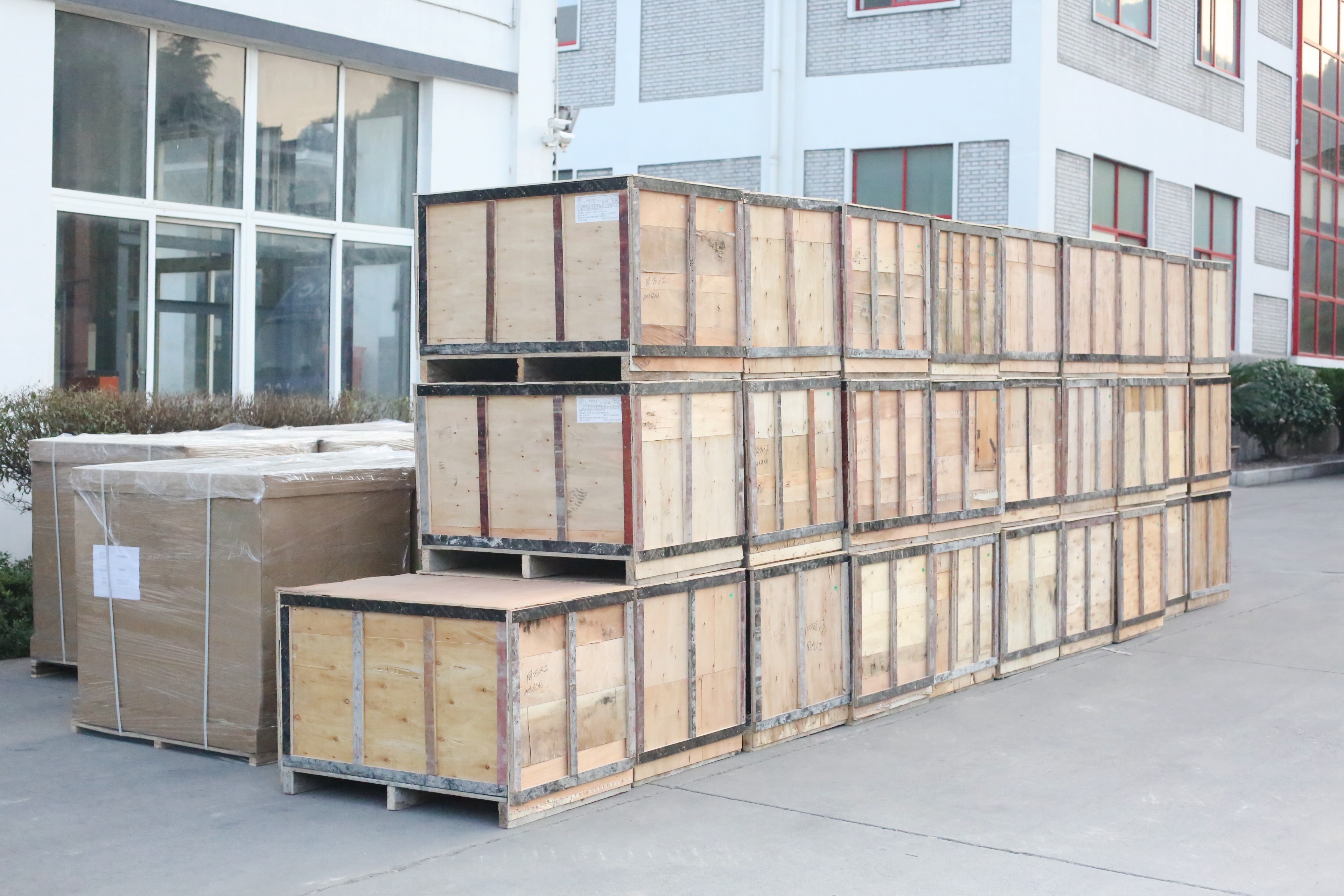 1.Carton packing:
only for small size,light weight products.
2.Plywood case packing:
high resistance of brust strength,ring crush strength and tearing strength.
1.How to choose a match heat exchanger?
Please fill in our Technology Selection Sheet, our engineer will recommend a match model to you.
2.If possible to customize? How to do?
Yes,we can supply ODM service.
We can manufacture heat exchanger according to customer's drawings.
Or we draw papers based on customer's requirements, manufacture after client confirm.
3.How long is the delivery time?
10 to 15 days for regular models, or 25 to 30 days for customized models.
Paper box and plywood pallet; or plywood case for heavy weight products.
Individual or multiple pieces per package base on weight and dimension.
In general by T/T and L/C at sight, OA is available for large quantity purchase order and long-term cooperation.
Anytime while the sample cost and freight is paid.
Over 20 pieces.
The warranty is 1 year,but lifelong technical support and service.