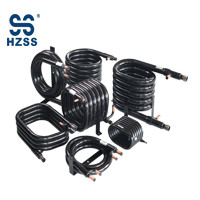 HZSS trombone type copper tube heat exchanger for condenser/evaporator
Item specifics
material

copper
color

black
application

condenser/evaporator
type

trombone
Description
Condenser & Evaporator for WSHP Coils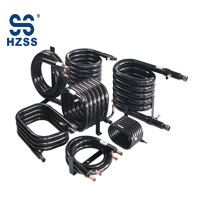 Product Profile
HZSS's WSHP coils are specially made for water source heat pump as evaporator and condenser, with flexible shape, compact and high efficiency.
Product Features
1.Water flow in the inner tube and refrigerant flow in gap between the inner and outter coil, to enhance turbulence intensity and heat transfer coefficient..
2.Spirally corrugated inner tube increase heat transfer surface to creat higher efficiency.
3.Reliable with higher pressure stand and less welding points.
4.Anti-freezing and self-cleaning.
Product Technical Parameters
Note: Model SS-0XXXGT, G means Carton Steel, T means Copper
Test Condition: As Evaporator, water inlet temp 68℉, Evaporating Temp 50℉;as Condenser, water inlet temp 85℉, Comdensing Temp 104℉
Product Dimensions