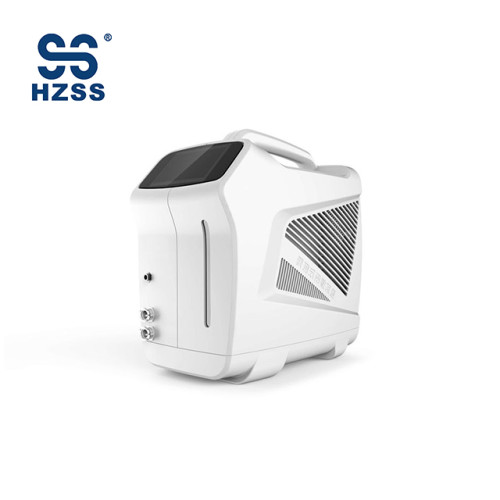 HZSS R&D Portable automatic pulse cole compress system
Item specifics
color

white
application

medical
Description
Portable Automatic Pulse Cold/Hot Compress System
Products Brief
This product is a set of portable cold/hot compress system, mainly including a 280W cooling capacity refrigeration/heating unit, a portable ice bag, a power adapter/battery. Through the compression refrigeration/heating system, the cold and hot water which adapts to the temperature is produced into the ice capsule cycle to achieve rapid cooling, sweling and analgesic effect.
This product is used for all kinds of portable use of human body parts cooling/heating, including medical rescue, sports competition, special competitions, fire fighting and other fields.
Product Features
1. Smallest volume in the same area products.
2. The efficiency of the refrigeration is 5 times as high as TEC.
3. The accuracy of temperature control at 1 degrees centigrade.
4. China Medical certification.
5. Adapt to high altitude, mobile sloshing environment.
6. Automatic pulse.
Product Technical Parameters
Structure of the cooling unit
1.Water filling inlet; 2.Handle; 3.Air outlet;
4.Power switch; 5.Power socket; 6.Air inlet;
7.Water inlet; 8.Water outlet; 9.Temperature sensing interface;
10.liquid level display window; 11.Operation panel.