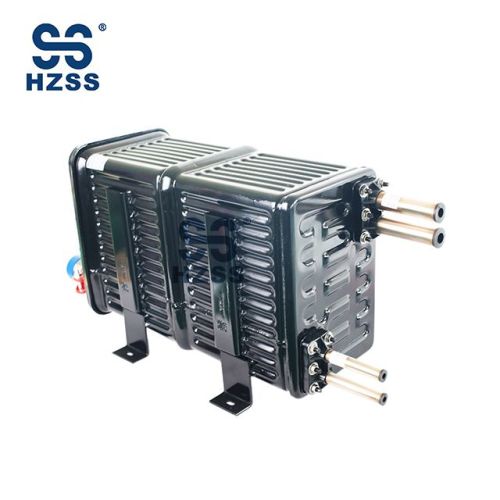 Plastic steel shell and pipe heat exchanger hangzhou hzss manufacturer
Description
Shell and pipe heat exchanger
Product Profile
This product is a kind of high efficiency heat exchanger which is composed of high efficient Ω style inner pipes and plastic shell. It has the advantages of both shell & tube heat exchanger and plate heat exchanger. The shell is made up of plastic inner tank, and foam insulation layer and stell shell. The inner tubes arrangement method has been certificated as our technology invention patent.
Product Features
Anti-Freezing
Both Heat exchanging inner core with structure of Ω and plastic baffle plate possess the ability of elasticity to obtain the function of anti-freezing
Anti-Corrosion, Long serve life
HZSS patented structure of plastic baffle plate and titanium inner core has long serve life and high corrosion resistance
High Efficiency
Our heat exchanging inner core are internal threaded to obtain more heat transfer area and turbulence flow in order to achieve higher efficiency
Special Refrigerant connection sealing to avoid leakage
Sealing components are special material to resist temperature from 200℃ to -20℃, and sealing covers are screw threaded to ensure reliability
Easy maintainence and cleaning
The shell is designed to be dismountable to make maintainence and cleaning much easier.
Product Technical Parameters
Test condition: As condenser, water inlet temp 30℃,water outlet temp 35℃,condensing temp 40℃;
As evaporator, water inlet temp 12℃,water outlet temp 7℃,condensing temp 2℃.
As condenser, water inlet temp 86℉,water outlet temp 95℉,condensing temp 104℉;
As evaporator, water inlet temp 53.6℉,water outlet temp 44.6℉,condensing temp35.6℉.
Plastic steel shell and pipe heat exchanger explosion view
1.heat teansfer inner core 2.temperature sensor point 3.metal jpint
4.steel cover 5.water loop seal plate 6.plastic cover
7.water outfall 8.seal ring of refrigerant loop 9.steel shell
10.plastic shell 11.foam material 12.bracket
Product Dimensions